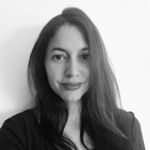 Kelli Harris
Expertise
Content Marketing, Content Writing, Branding, Design, Social Media Strategy
Education
BA (Hons) in Media and Film Production, and Art History
Experience
Kelli Harris is an editor at Artza. She has a deep interest in religion, philosophy and values working in a profession that gives her insight into these different topics.
About Artza's Editorial Process
At Artza, our team of experienced writers and editors strive to bring you stories from the Holy Cities of the Christian Bible and grow your faith in God. We review Artza's content to ensure theological relevance and accuracy. We only source content from the Bible, reputable sites, and academic research institutions and cite these wherever relevant. Learn more about our editorial process here.