Best Israeli Hummus Recipe: Step-by-Step Guide
Updated September 28, 2023.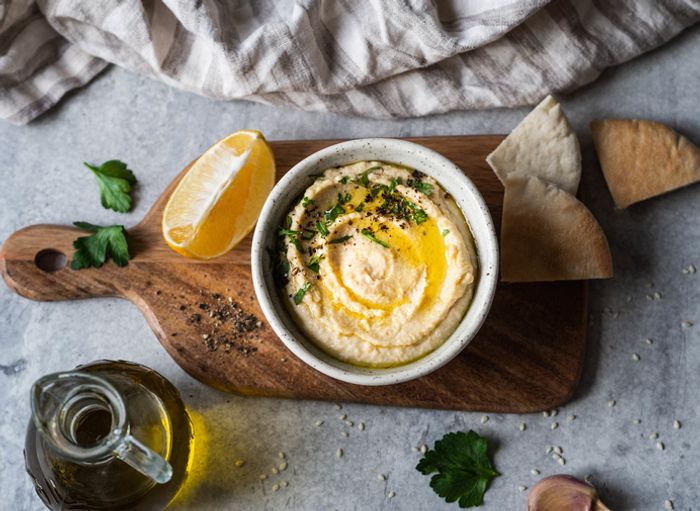 When people think of Israeli food, one of the first things they inevitably think about is hummus. Here in Israel, we have hummus with everything! Everyone claims to have their own best recipe and favorite hummus spot, where they gather with families to enjoy this healthy and delicious dish on the weekend. Did you know that the oldest written recipe for hummus was found in an Egyptian cookbook dating back over 800 years! For our loyal Artza family, we wanted to put our very own Artza twist on this quintessential Israeli dish. So we partnered with our friends at the "Spice Road Farm" to create a custom hummus spice blend that features over 10 different natively grown spices and herbs. As we say in Hebrew, te'he-nu (Enjoy)!
INSTRUCTIONS
To start – mix the tablespoon of Hummus seasoning with 3 tablespoons of olive oil in a separate bowl. Mix it thoroughly, then set it on the side to allow of the flavors to seep into the oil.
Take a tablespoon of chickpeas, the diced-up parsley, and the boiled egg and put them to the side – we will use these at the end.
In a blender combine the remaining chickpeas, garlic cloves, salt, tahini, lemon juice, olive oil, paprika, cumin (optional) and blend until creamy.
Now for the fun part – pour the hummus into a serving bowl, use the back of a spoon the create a circle in the middle. Drizzle your olive oil blend over the hummus, and sprinkle the diced up parsley to garnish. And the remaining chickpeas on top of the dish, alongside the boiled egg. Sprinkle some extra hummus seasoning on top and enjoy with warm pita bread!!
INGREDIENTS
1 TBSP

Artza

Hummus seasoning

2 CANS Chickpeas

4 TBSPS Tahini

3 1/2 TBSPS Lemon juice

9 1/2 TBSPS Olive oil

3 OR 4 CLOVES Fresh garlic

A PINCH OR TWO Salt

1 TSP Paprika

A PINCH OF Cumin (OPTIONAL)

Diced parsley (OPTIONAL)
Experience the culinary wonders of Israel like never before with Artza! Indulge in tantalizing Artza recipes meticulously crafted by top chefs in Israel, using locally sourced ingredients that capture the essence of the Holy Land. Join the ever-growing Artza community of over 100,000 members and unlock the magic of our faith subscription box. Every three months, prepare to be amazed as a treasure trove of delights arrives at your doorstep. Discover exotic Israeli spices, mouthwatering recipes, captivating crafts, extraordinary gifts, awe-inspiring art, and so much more. Don't miss out on this extraordinary journey. Click here to embark on an adventure of flavors, culture, and faith with Artza today!