How to Make Sumac Roast Chicken - Israeli Style
Updated September 28, 2023.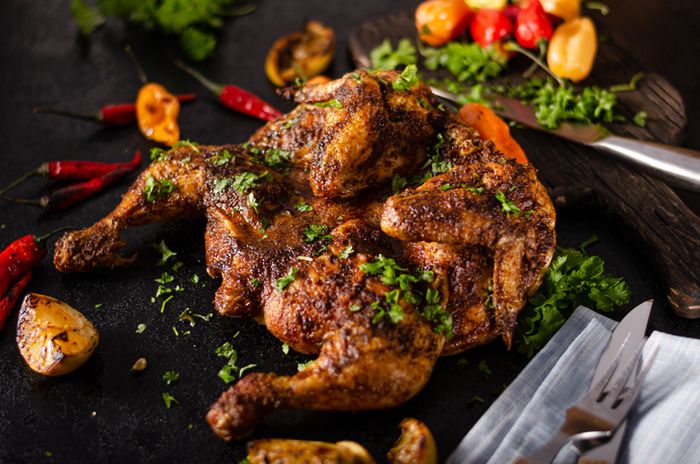 Originally used by tanners in ancient Egypt as a natural coloring agent, Sumac today is one of Israel's most widely used spices. With hundreds of sumac species grown all over the world, Rhus coriaria is the only species wildly grown and cultivated in Israel. With its unique piquant, lemony spice, the possibilities for using Sumac are endless! For you, Artza has chosen to share one of the most delicious recipes to transform your classic roast chicken to a dish you will absolutely love!


INSTRUCTIONS
Place the chicken in a bowl and add the lemon juice; 3 tablespoons olive oil; 1 1/2 tablespoons sumac; the garlic, cumin, allspice and cinnamon; and 1 1/2 teaspoons salt and 1/4 teaspoon pepper. Rub the mixture into the meat. Add the red onion and toss to coat. Cover and transfer to the refrigerator to marinate, 1 to 3 hours. Heat the oven to 37'F . Transfer the chicken, onion slices and any juices to a baking sheet and roast until the juices run clear for approx. 40 minutes. In a small skillet, cook the pine nuts in the remaining 1 tablespoon olive oil until golden brown, then transfer to a paper towel to drain. To serve, heat the bread and transfer to a platter. Arrange the chicken and red onion on top. Finish with a smattering of pine nuts, sumac and chopped parsley. Drizzle any remaining roasting juices so they soak into the bread, then drizzle with a little more olive oil and enjoy!!
INGREDIENTS
2 POUNDS Chicken Thighs and Drumsticks

4TBS Fresh Lemon Juice

4 TBS Olive Oil

1 1⁄2 TBS Sumac Spice

4 Garlic Cloves, Crushed

1⁄2 TSP Ground Cumin

1⁄2 TSP Ground Allspice

1⁄4 TSP Ground Cinnamon

PINCH Sea Salt

PINCH Black Pepper

4TBS Fresh Lemon Juice

1 Sliced Red Onion

2 TBS Pine Nuts

HANDFUL Chopped Parsley

Pita/flat bread For serving
Experience the culinary wonders of Israel like never before with Artza! Indulge in tantalizing Artza recipes meticulously crafted by top chefs in Israel, using locally sourced ingredients that capture the essence of the Holy Land. Join the ever-growing Artza community of over 100,000 members and unlock the magic of our faith subscription box. Every three months, prepare to be amazed as a treasure trove of delights arrives at your doorstep. Discover exotic Israeli spices, mouthwatering recipes, captivating crafts, extraordinary gifts, awe-inspiring art, and so much more. Don't miss out on this extraordinary journey. Click here to embark on an adventure of flavors, culture, and faith with Artza today!