Christmas Israeli Carob Cookie Recipe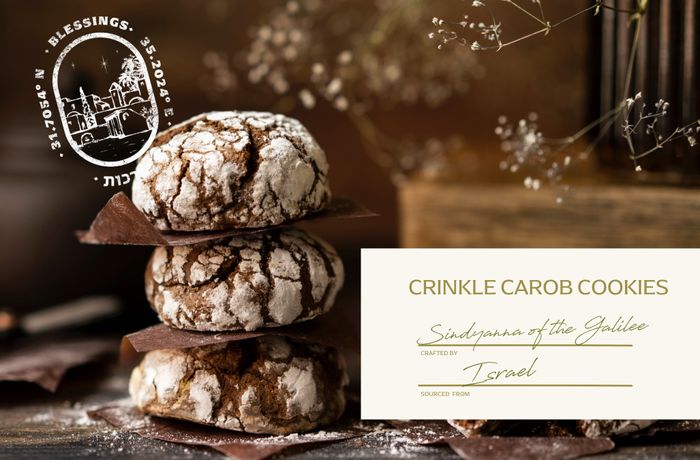 The Carob tree is native to the Land of Israel and was around in abundance during the times of the Bible. In times of the Bible, the common species of Carob did not bear fruit for 70 years. (Species today do not produce a full yield until 20-25 years after planting.). There is a beautiful story told in the ancient Talmudic texts, of the Choni who once observed a man planting a carob tree. He asked him how long until it bears fruit. The man responded 70 years. He asked, "Do you think you'll live for another 70 years?!" The man responded, "I came to a world with carob trees. Just as my ancestors planted for me, so too will I plant for my descendants."
Carob very low in sugar and high in fibers and can help lower your cholesterol, reduce your risk of heart disease &ease stomach issues. We hope that you enjoy this delicious carob treat! Perfect for any festive table. If you want to buy Carob syrup - it is included inside our Christmas Blessing box that you can buy here.
INGREDIENTS
60 grams (4 tbsp.) natural Carob syrup
60 grams (1/4 cup) dark brown sugar
45 ml. (3 tbsp.) vegetable oil
¼ tsp ground cinnamon
Pinch of salt
1 egg
140 grams (1 cup) whole wheat flour
50 grams (1/2 cup) almond meal
½ tsp. baking powder
½ tsp. baking soda
60 grams (1/2 cup) sugar powder
INSTRUCTIONS
In a large mixer bowl place date syrup, sugar, oil, cinnamon, salt, and egg in a and whisk until combined. Add flour, baking powder and mix until soft dough is obtained. The texture may be crumbly which is ok, kneed it together until you get a consistent dough. Cool the dough for about an hour in the refrigerator.
Preheat the oven to 335'F degrees and arrange baking paper on baking trays. Roll small balls, of dough, flatten slightly and dip in powdered sugar for coating. Arrange the cookies in intervals on the baking trays and bake for 10-14 minutes or until the cookies crinkle and set, check on them after 8 minutes, you do not want them to get too hard. Cool completely at room temperature and serve – enjoy this delicious Israeli Christmas treat!