Authentic Israeli Sachlab Cookies: A Sweet Middle Eastern Delight

By

Alice Bassett
Published August 22, 2023.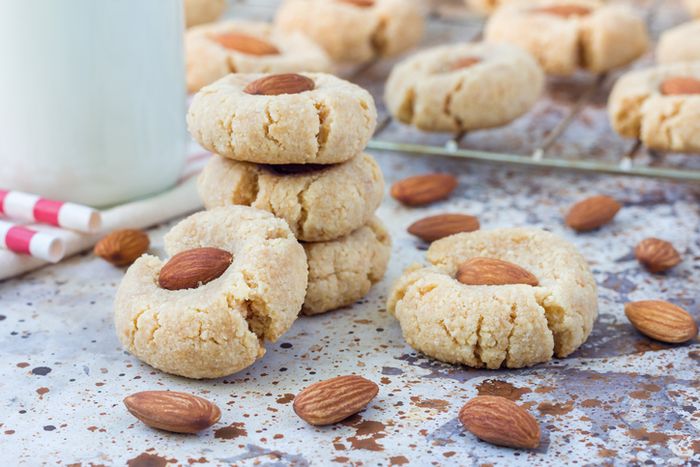 Originating from Turkey, Sachlab is made from the dried and ground up bulbs of the Sachlab Orchid flower. The secrets of Sachlab made its way across the borders to Israel, and is considered to be one of the quintessential Israeli deserts. The Sachlab blub is know to have many natural homeopathic healing effects and is often drunk in the winter to cure and sooth the common cold and flu. There are hundreds of variations of the Sachlab drink, and we can't wait for you to try our Sachlab almond cookies. With their unique flavor and exotic taste – they are sure to impress at any table you serve them. Enjoy!
INSTRUCTIONS
Preheat the oven to 3
45F. Mix all the ingredients together by hand until you have a soft dough - careful not to overmix! Form 1⁄2 inch balls from the dough, place on the cookie sheet. Press an almond into the top of each ball slightly flattening the dough. Bake for 20 minutes. The cookies will stay white - you can check if the bottom is slightly golden if you're unsure. Bete'avon!
INGREDIENTS
3 CUPS Flour

1⁄2 CUP Sachlab Powder Mix

1⁄2 CUP Sugar

1 1⁄4 CUPS Canola Oil

OPTIONAL TOPING Almonds
Experience the culinary wonders of Israel like never before with Artza! Indulge in tantalizing Artza recipes meticulously crafted by top chefs in Israel, using locally sourced ingredients that capture the essence of the Holy Land. Join the ever-growing Artza community of over 100,000 members and unlock the magic of our faith subscription box. Every three months, prepare to be amazed as a treasure trove of delights arrives at your doorstep. Discover exotic Israeli spices, mouthwatering recipes, captivating crafts, extraordinary gifts, awe-inspiring art, and so much more. Don't miss out on this extraordinary journey. Click here to embark on an adventure of flavors, culture, and faith with Artza today!