Visit Nimrod Fortress: Interesting Facts, Location, History, and More

By

Marie-Claire De Villiers
Published January 25, 2022.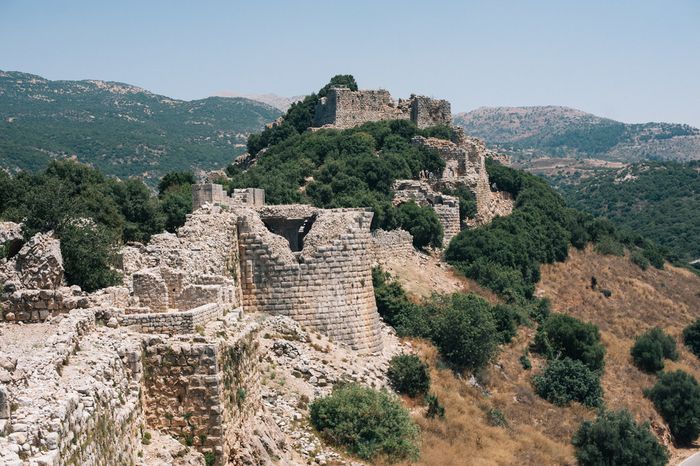 Nimrod Fortress is the largest castle remaining from the Middle Ages in Israel at the foot of Mount Hermon, in the northern Golan Heights. Built in the 13th century (1229 CE), it is set at about 2,500 feet and overlooks the lush Banias forests, which are decorated with sparkling rivers and waterfalls.
Why Is It Called the Nimrod Fortress?
It was named after Nimrod of Babylon, a significant Biblical figure and warrior who also once built an extraordinary castle of his own on a hilltop.
Nimrod was the great-grandson of Noah, a king in the land of Shinar, and a famous hunter and warrior. He is mentioned in the Book of Genesis and Books of Chronicles. He is considered one of the men who helped build the Tower of Babel. There is also evidence suggesting that the Epic of Gilgamesh written on clay tablets, the oldest work of literature ever discovered, was based on the figure Nimrod.
Who Built the Nimrod Fortress?
The Nimrod Fortress was built by the Ayyubids people. Foundation Inscriptions indicate that Nimrod Fortress was first built in 1229 CE, by Al-Aziz Uthman, the second son of Saladin, as a way to guard an important trade route and entry point to Damascus. It was also held by the Crusaders and the Mamluks, who enlarged it substantially.
Size Of the Nimrod Fortress
The fortress comes in at 1,350 feet in length and 500 feet in width. The large keep on its eastern side is 200 X 150 feet and framed by huge rectangular towers.
Facts About Nimrod Fortress
The secret passage

Visitors to the fortress can explore the prison tower as well as a secret passage that is 88.5 feet (27 meters) long and opens up in the northwest tower.

Seige security

Water was stored in cut-out pools below the fortress, only accessible via protected staircases to ensure the people had a good supply of water when the castle went under siege.

The Valley of Nimrod

It has been said that the Valley of Nimrod is where the Tower of Babel may have once stood.
Can You Visit the Fortress?
Yes. The castle is open every day except Sundays.
Ticket Prices
Standard ticket prices are:
Adult: 21 NIS

Child: 9 NIS
Combo ticket (Nimrod Fortress & Banias):
Adult: 38 NIS

Child: 19 NIS
Groups of 30+ qualify for special rates
Touring
A full tour can take a few hours, depending on how long you spend at various architectural points. You can peep through battlements, go up the round stairs to the fourth floor, and see ancient inscriptions (as well as some very cute-looking lions) sculpted into the walls. The views from the fortress are spectacular - be prepared to spend a little time soaking in the vistas and taking some photos.
The beautiful, historic, and mystifying Nimrod Fortress is a must-see for anyone visiting the Golan Heights.